The Orange County Association for the education of Young Children (OCAEYC) is a proud Affiliate of The National Association for the Education of Young Children (NAEYC), dedicated to representing early childhood educators in Orange County, California.
OCAEYC

OCAEYC is a critical part of the early childhood education system in Orange County, California. We work with our partners to make sure early care and education providers have access to quality training and information, a professional and social network of colleagues, and local savings and services. Most of all, we are working to create a community of leaders that will keep early educators connected, inspired, and supported. Thank you for nurturing and educating Orange County's youngest children. The work that you do is extremely critical to the future of this community.
OCAEYC is seeking Consultants!
The Orange County Association for the Education of Young Children is seeking qualified individuals or organizations with experience in the early childhood development and learning field. Bilingual preferred. This role will function as the lead for a group of peer guides (mentors) and provide technical assistance to various early care education providers through training. The goal of this work is to maintain, and further build a mentorship network. For more information, please view the scope of work below.
Follow OCAEYC!

Follow us on facebook, Instagram, Twitter, and LinkedIn to see what's new with OCAEYC, learn more about our work, and connect with other early education professionals.

Have you heard the latest news?

We now offer a new COVID-19 Technical Assistance Program for early care and education providers? Learn more about the program here.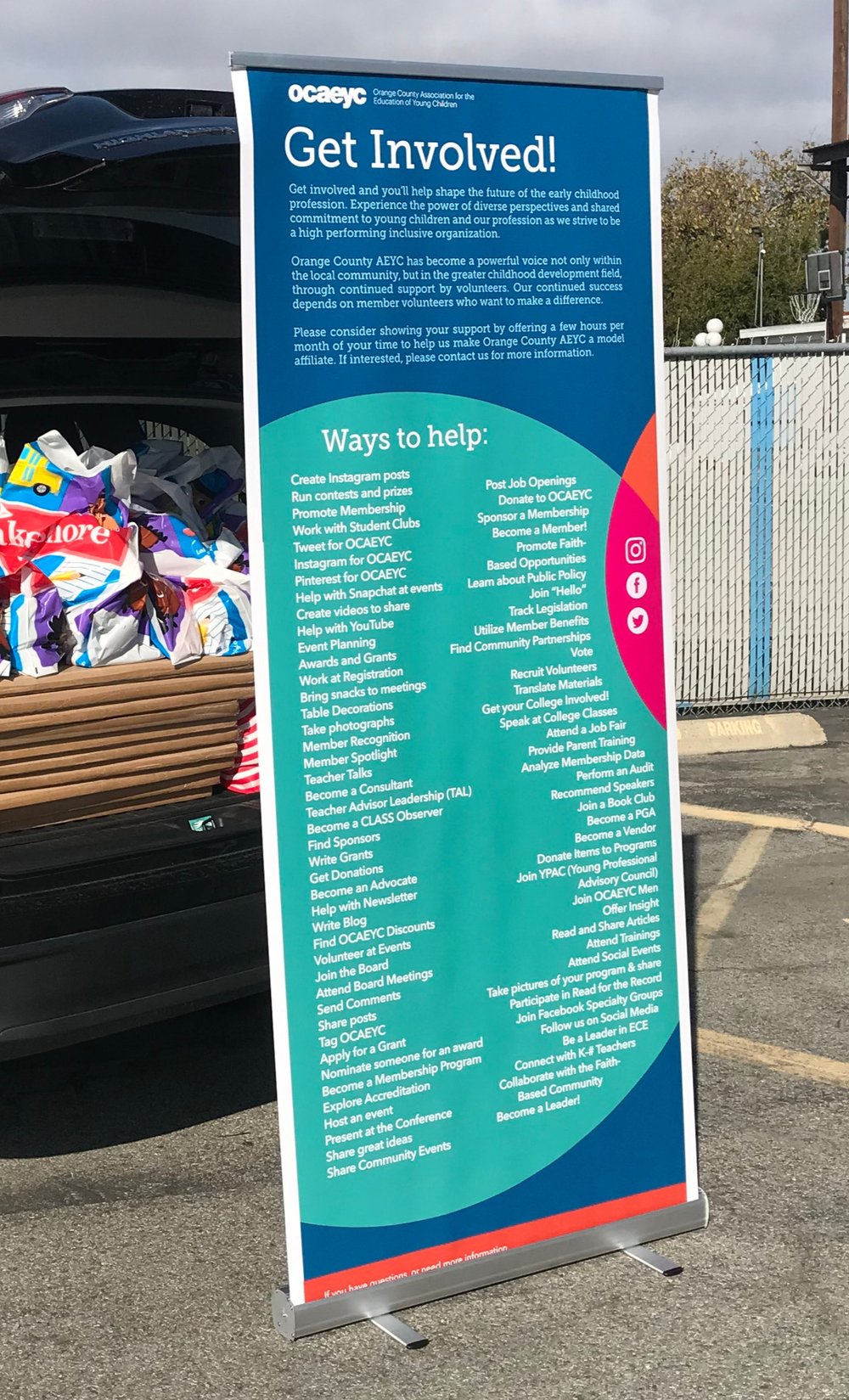 Support Our Work

You can donate to OCAEYC and support our work. Donations are used to provide professional training and support to early educators which includes an annual conference, workshops, and scholarships to conferences. It also allows us to expand our ability to advocate for public policy that supports the well-being and success of children. Visit our About Us page to learn more about who we are and the work we do.

You can also support our work by choosing the Orange County Association for the Education of Young Children as your charitable organization when you shop on Amazon Smile.

Read the OCAEYC Newsletter!

We publish a Quarterly Newsletter that we distribute via email. Sign up below to receive newsletters, alerts, and informational emails from OCAEYC.

Orange County Childcare During COVID-19
Early Childhood OC is maintaining a list of open child care sites for essential workers during the COVID-19 crisis. The searchable database features child care centers and family child care homes that are currently open and serving children from birth through age 12. The site, which includes resources for payment assistance, will be updated every Friday. If you are a Childcare provider who is currently open and would like to be added to the database, please contact Early Childhood OC.